a couple weeks ago i took a little break from blog posting due to a last minute trip to california.  the boys and i drove out with my parents (branden had to work :/  we went out to attend a memorial for my mom's uncle, a sad motivator.  but i was really looking forward to spending some time with family 🙂  with our kiddos being so little, we don't do much traveling (I hope this changes one day!)  a lot of my family in cali had only met silas once and never met ethan!  this is craziness to me, to have loved ones that have never met those closest to you.  it's definitely on me – i need to be more intentional about keeping up with people!
i have some pics to share later of us with cali family, but for today, here are some of us at the beach 🙂  i do love the ocean, the beach, the instant childlike freedom that comes from chasing waves for no other reason than to get your feet wet!  this is probably the first time our boys will remember even seeing it, and i wanted to make sure there were pictures to remind them!
we visited the santa monica pier.  here's silas trying on an angry birds hat from a pier vendor (i'm not sure what the craze is about, but  playing this game on my phone is an incentive in our house for good behavior 🙂
i recently read this post and was challenged to get in more pictures with my family, to leave some evidence behind that i was here, a part of their lives.  i think lots of moms struggle with this, making excuses like "i have no make-up on" or "i don't like the way i look in pictures."  whatever the excuse, i'm learning that my kids won't ever look at a picture and think "wow, i wish mom did her hair before getting in this picture!"  they'll be grateful for some proof that you were there.
btw, a thank you to my dad who snapped this one of me and the boys 🙂  see?  this is when you and mommy saw the ocean! (though i'm not sure what's happening with ethan's face)
i love the mystery of the open water.  what's out there?  it goes on forever!
i have to tell you, walking to the end of the pier, reaching the place where there was nothing but ocean, i looked down at silas, wondering what he might be thinking with this beauty so vastly surrounding him.
he looked up at me and said, "mom?"
"yes silas?"
"you know, a good cheeseburger with some meat on it would make me feel a lot better right now!"
awesome.  guess we should have eaten lunch before coming to the pier 🙂
against my motherly logic that said, "they don't need to track sand and wet clothes into the car," we rolled up our pant legs and spent some time catching waves.  good decision 🙂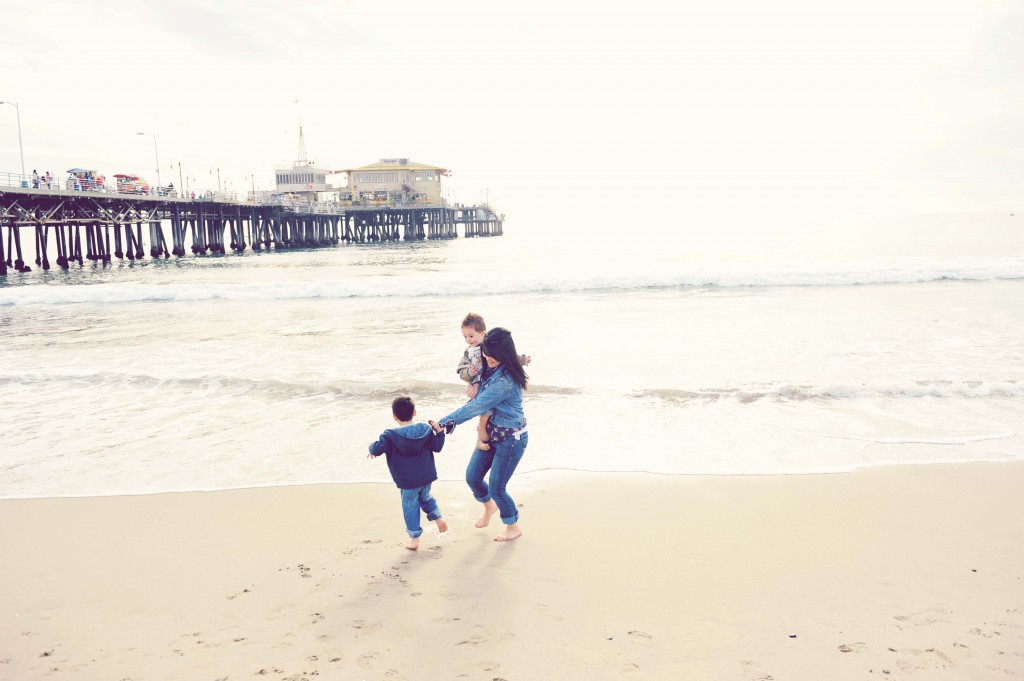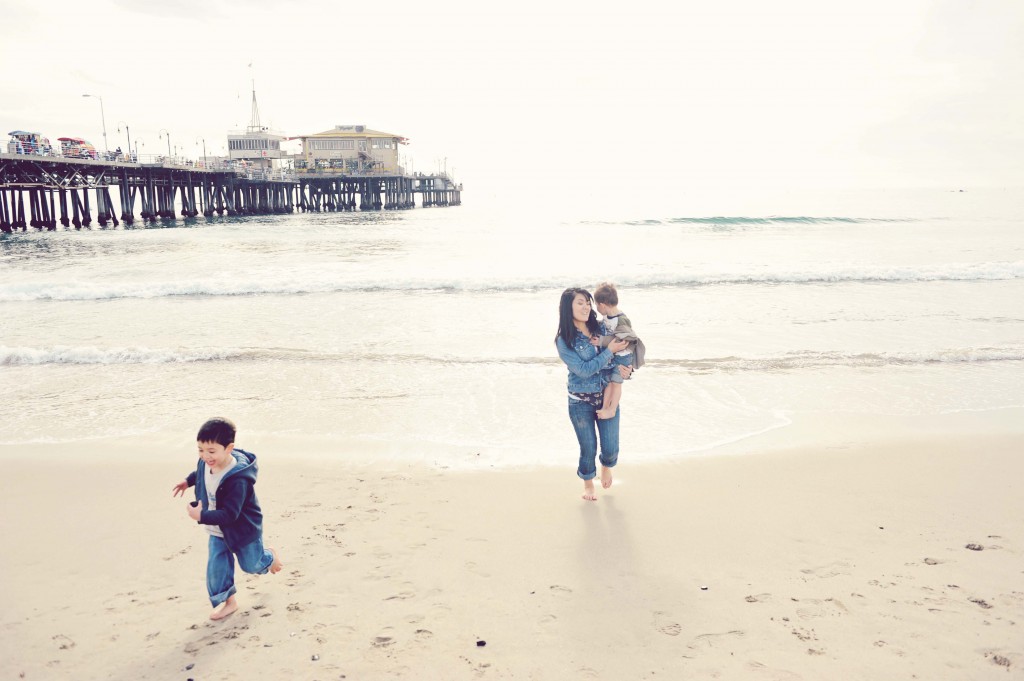 had to get some almost silhouettes of the boys on the shore 🙂
thanks for the memories santa monica!  we'll be back with daddy someday 🙂