So, father's day is right around the corner!  Last year, the boys made a pretty cool gift for Branden – budget and kid friendly, and cool enough to make it to the office desk 🙂  Anyways, I thought I'd repost it, in case you were looking for a diy gift for the dad, grandpa, or other father figure in your life!  Here's the post from last year:
…..
This year for Father's Day, I wanted the boys to make Branden something simple, handmade, and heartfelt.  I'm a big fan of taking things you find in nature and using them purposefully for displaying/decorating; it adds a rustic feel (and I can usually do it on the cheap!)  So, here's what we made Branden this year!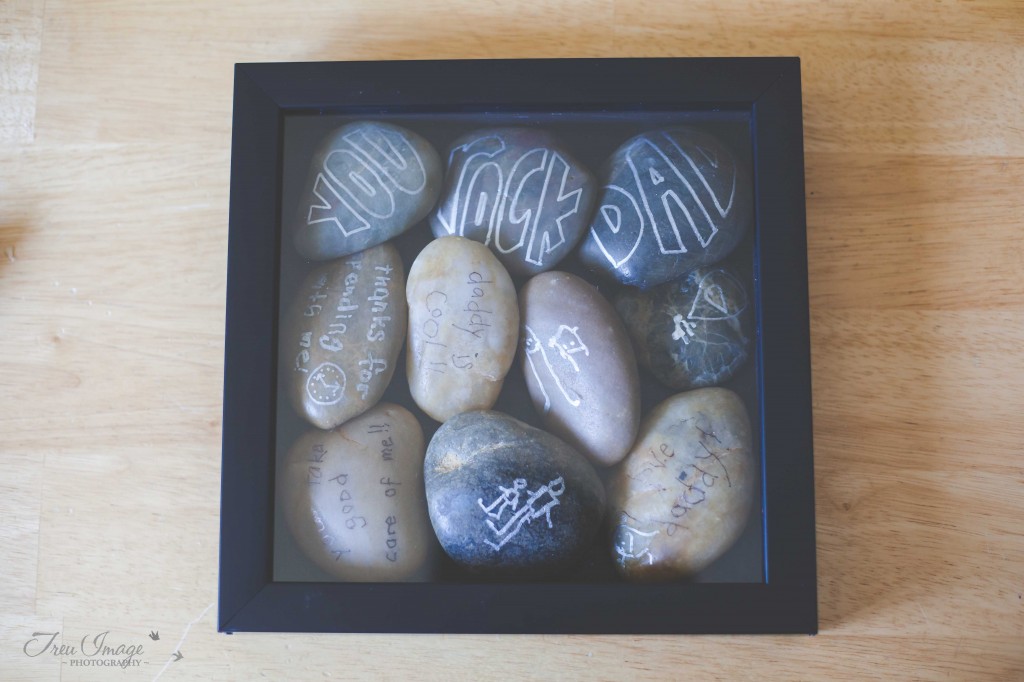 If you're needing something cool, inexpensive and quick to make for Father's Day (or pretty much any occasion), this is a great gift!
Here's what you'll need:
a shadowbox with glass (ours was an 8×8 inch, about 2″ deep that we got on sale at Michaels for $6)
Sharpie markers of your choice (we did silver and black because I like the more traditional look vs. multicolor)
rocks (you can use ones you find outside, or buy a package from the craft store.  We used a coupon and got these for about $4)
I also used a hot glue gun and glue sticks, a pencil, and nail polish remover with q-tips for "erasing" any mistakes on the rocks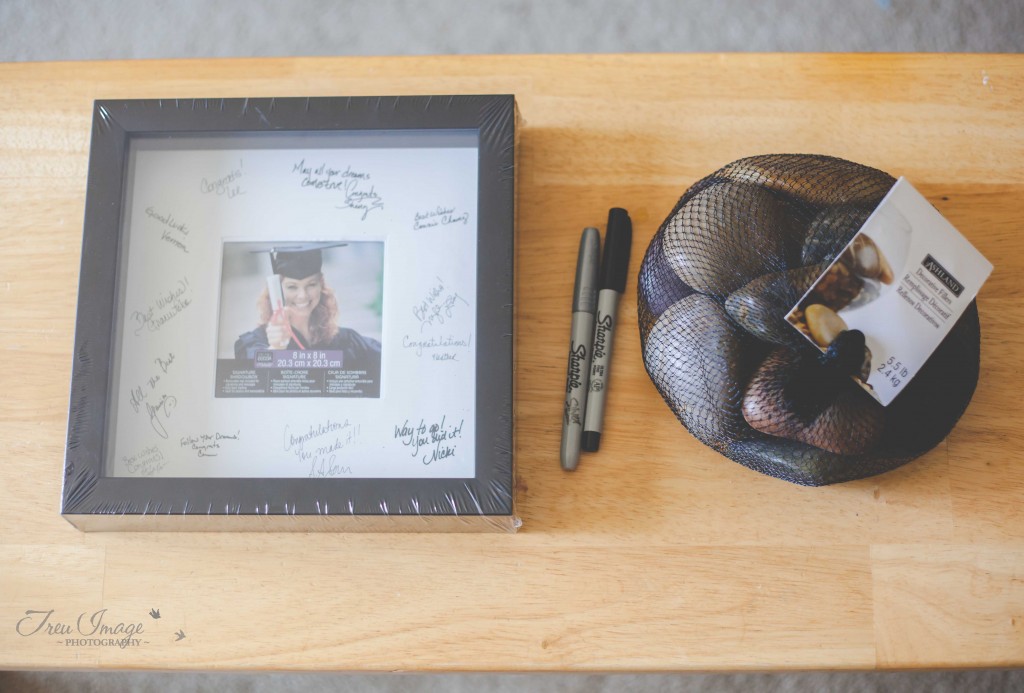 Step 1
First, open up your shadow box.  If it's like ours, it had a black or neutral colored matte as the backing and maybe another matte inside.  Save the black matte; this is what you'll glue the rocks to.
Pick out the rocks you want to use and arrange them on the matte.  Place the shadow box over them to make sure it will close.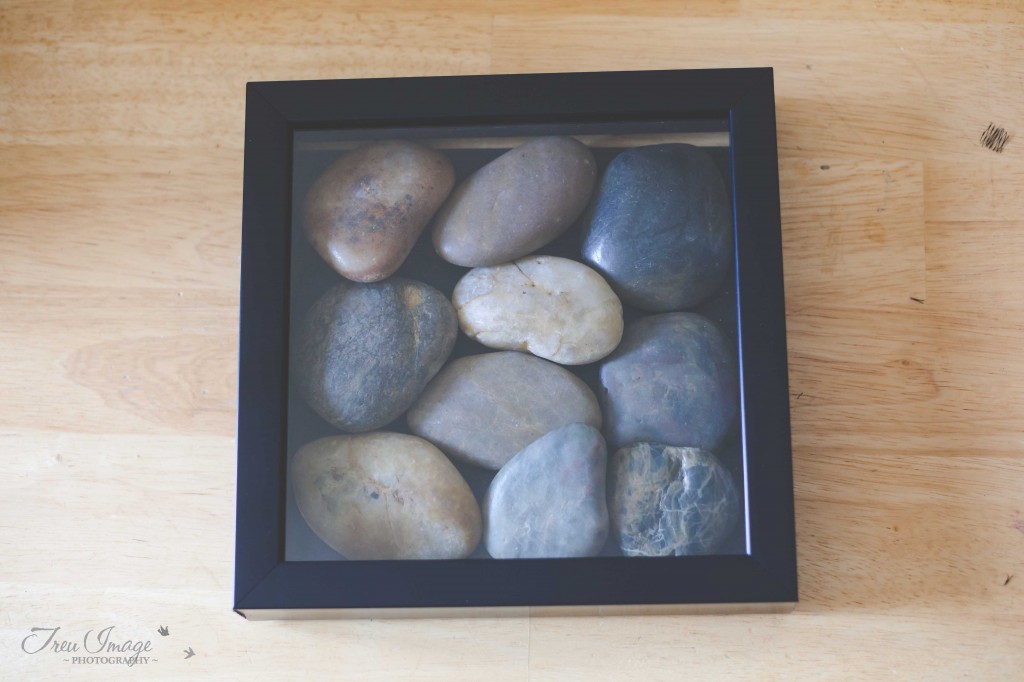 Step 2
Have your kiddos write sweet things to Dad on the rocks.  They can write phrases to Dad, write what they love about him, or even draw pictures.  We did a little of everything!  Make sure you leave three rocks on one side that you can write "You Rock Dad" on.  I did those, but an older child could help too.
I will say, I helped Ethan (our four year old) by holding his hand while he wrote since he doesn't know how to write yet.  Silas (5) had a hard time too, so I wrote what he wanted on the rock with pencil and he traced over it with the Sharpie.  The pictures they did themselves.
Step 3
Arrange your rocks on the matte again.  Plug in that glue gun and get to gluing!  Make sure to leave about a 1/4 inch all the way around the matte for the lip of the shadow box.  This was probably the hardest part of the project.  Make sure to check that the rocks will fit periodically by placing the shadow box over the rocks.  You want to make sure it will close!!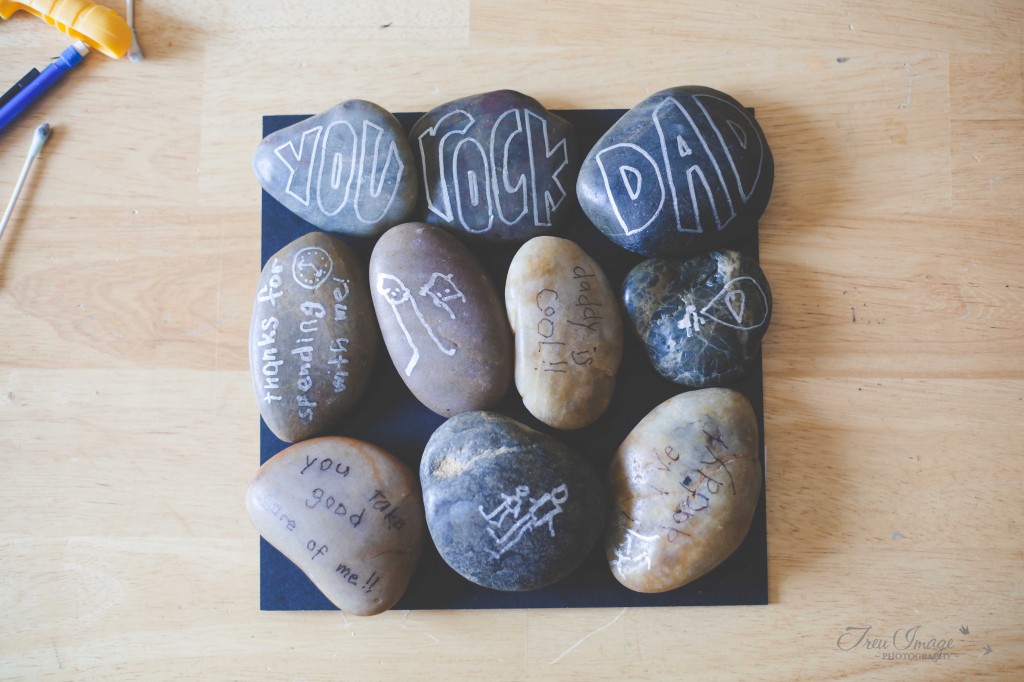 Here are some close ups of the boys' rocks.  So sweet!
And here's the finished project!  I love how it turned out!  I love too, that these drawings and handwriting tell of the boys' age right now and how much they adore their dad!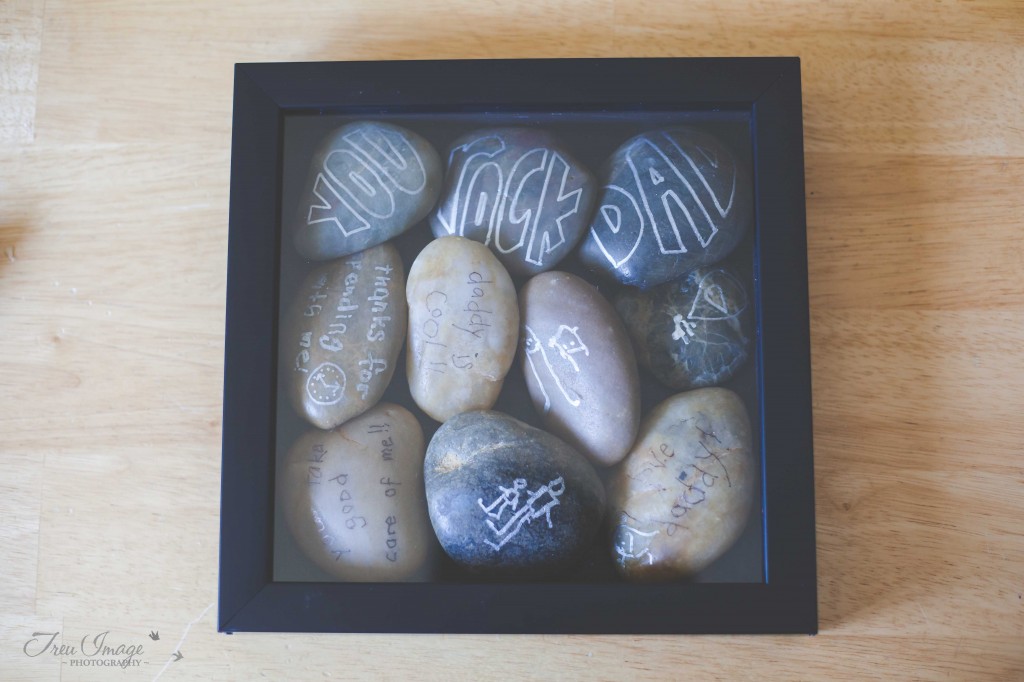 So, a sweet and simple project that'll tell Dad how much his family loves him!  Happy Father's Day dads!