35 / 52 – This time last year…
This time last year we were getting ready to move into my parents' house.  The Lord had already told me we were going to be missionaries, but He still hadn't spoken that to Branden yet.  He was working two jobs, sometimes 80-90 hours a week, and we didn't see him very much.  I remember packing boxes day after day by myself and thinking, "If God doesn't do what He's told me He will, if He doesn't change Branden's heart and show him we're supposed to be missionaries, I have no idea what we're doing."  We weren't really "making it."  We couldn't afford a place of our own.  We were moving an hour out of town into a very unfinished basement and had very little other direction in life except that we knew the Lord was calling us to children's ministry.  Branden was completely disheartened.  I was lonely.  This was it.
On the day we moved out, the Lord gave me these verses:
"Remember the former things, those of long ago; I am God, and there is no other; I am God, and there is none like me.  I make known the end from the beginning, from ancient times, what is still to come. I say, 'My purpose will stand, and I will do all that I please.'  From the east I summon a bird of prey; from a far-off land, a man to fulfill my purpose. What I have said, that I will bring about; what I have planned, that I will do."    – Isaiah 46:9-11
God is God.  He can do what He wants.  And whatever He says He'll do, He will do.
Well, we moved into my parents' basement.  Those first few weeks were really hard, especially on Branden.  Please don't misunderstand me.  My parents were awesome, but the idea of reaching this place in our lives seemed really anticlimactic and kind of like failure.  But the Lord would continue to encourage me, to be present and tell me impossible things that He would do.  He provided for us to take our scouting trip that October, and then did those impossible things!  He changed Branden's heart and finally told him we were supposed to serve full time overseas in Ireland!
Today we are getting ready to move again 🙂  So much has happened in the last year and even I can't believe it sometimes!  The other day we looked at a listing for a house online – in Ireland!  The pastor's wife in Cork (where we'll be going to serve in just a few short weeks!) called the listing agent and set up an appointment to see it.  She took me on a tour via phone pictures and Voxer (do you guys use Voxer?  It's an awesome walkie talkie app that you all should download so we can talk after our family moves!)  She brought home a renter's application and we filled it out together (again over Voxer, because it's awesome!)  And she mailed it in 🙂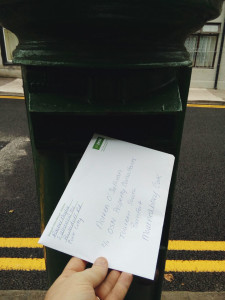 Yesterday as I got ready for my time with the Lord, He led me to Isaiah 26 again: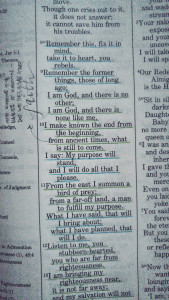 "I am God, and there is no other; I am God, and there is none like me… What I have said, that I will bring about; what I have planned, that I will do."
I didn't even realize it was exactly one year and a day since He'd given me this verse the first time until I was sharing it with a friend later that night.  He's done so much already, things that He'd told me He would do.  Crazy things that I had no idea how He would fulfill, and He delighted in showing me!  And now, we stand at the brink of something new.  There are promises still that He has yet to fulfill.  I find myself still wrestling with doubt some days, which is crazy when I look back and remember everything He's already done.  But He's patient with me and is still happy to blow my mind in telling me impossible things and then actually doing them!  Things were really painful a year ago.  I wouldn't trade those dark days for anything though, because it was in those times when the Lord showed me He was God.  I'm excited for what's up ahead and to go with a God who walks with us in the steps of faith He calls us to!