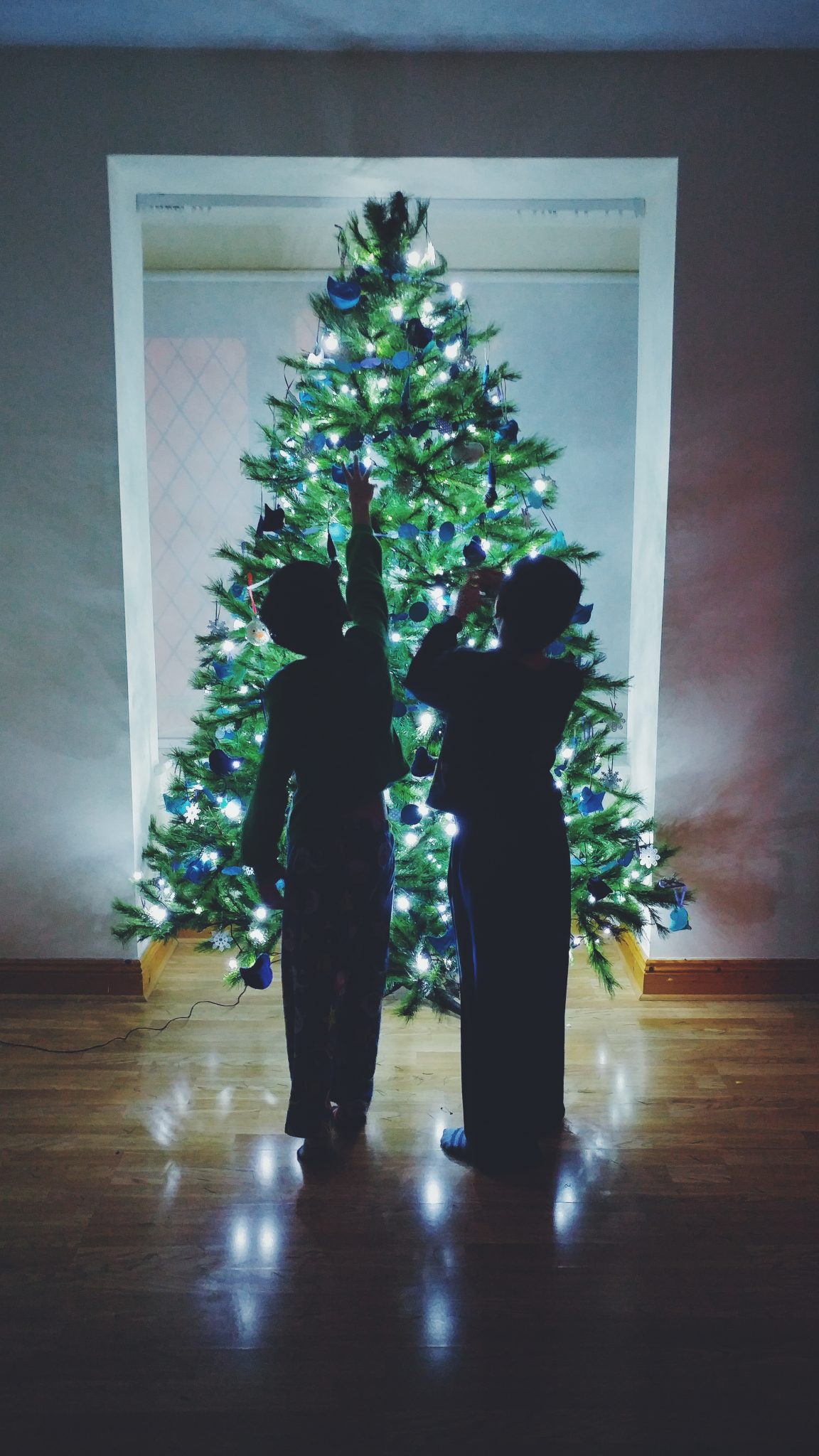 Magical things are happening at our house 🙂
I love Christmas time!  I'm not great at decorating (actually I'm finding just how little I know about it with this new house and all it's blank spaces!) but I do love the Christmas tree!  A few years ago, maybe four now, I decided to make all of our tree decorations.  About halfway into this endeavor I realized I was way in over my head, but by then it was too late!  I remember staying up late night after night, cutting stacks of felt sheets, collecting pine cones, sewing garland, even recruiting Branden and his trusty glue gun.  Eventually, somehow, it did get done!  We put our tree together that year, carefully dressing it with our crafted ornaments, and I remember stepping back and having this great feeling of satisfaction.  Seeing all the pieces put together – it had been worth it!
When we were getting ready to come to Ireland, there was a good while where we didn't know how much we could take with us. We sold our tree at a garage sale.  I remember a man standing over it, the branches all boxed up and sitting on the sidewalk.  He asked how much I wanted.  I gave a number.  He bartered.  I compromised.  He paid.  And just like that, I had sold Christmas!
I know that sounds dramatic, but at the moment, that's exactly how it felt.  Like this thing, our Christmas tree – Christmas and all the sweet, warm, happiness of it in our home, was maybe gone!  What would our life look like in the future?  Would we have a house?  What about our decorations?  Everything, not just Christmas things, was up in the air.
I decided to hang on to the decorations we'd made, at least until we knew for sure we couldn't take them.  As we moved closer to our time of departure, we figured out the cost of extra suitcases and even shipping things.  I consolidated all of our ornaments into one small box.  They would come with us 🙂
We do an advent calendar with the boys, basically something Christmasy every day in December as we countdown to the big day.  The first day's activity is always decorate the tree!  We bought a tree from a second hand store a couple weeks ago.  I didn't realize how big it was until Branden put it together!  Eight feet high and dozens of unfolded branches later, it was ready for our decorations.  Layer by layer, the four of us circled the tree, carefully nestling each piece into its place.  Gone are the days of little ones proudly clustering all the decoration on one low bough.  Now the boys talk about making triangles with each color, placing ornaments in relativity to each other.
Three hours later (why do I always forget how long it takes?!) our new tree was finished.  Pushed back into the bay window, lights all aglow, it's now the centerpiece of our sitting room.  And I'm realizing that all the pieces, along with their up in the air feelings, were not overlooked by the Lord.  Handmade tree decorations are not a necessity, but God still gave attention to them. And to my heart that loves this season and wants to make a home for this family.  He is so faithful!