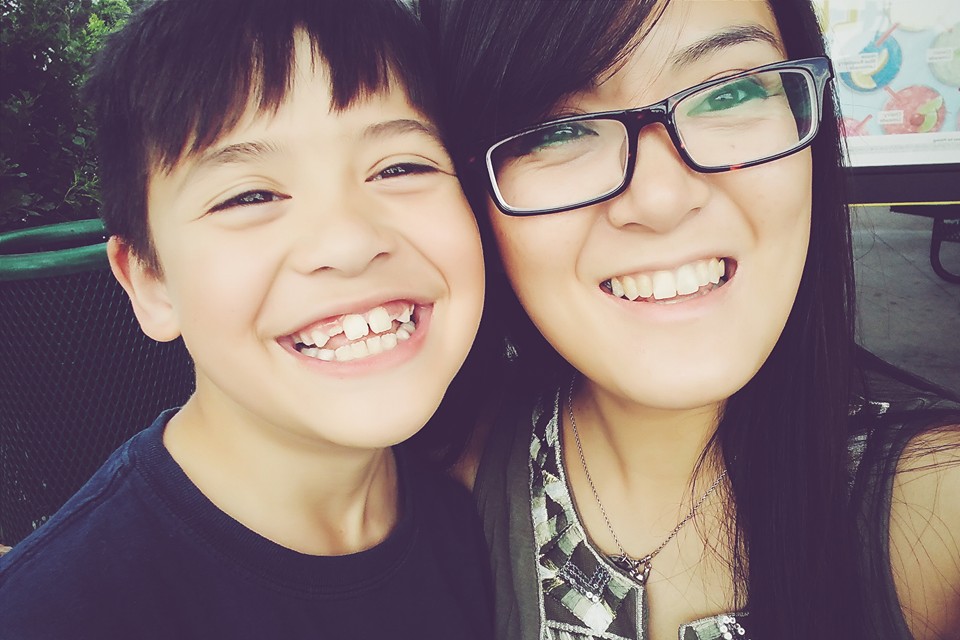 Thirteen days until we're on the field.
I don't know why I was so surprised, but I was.
Three days ago, 10:30am, I got a phone call.  Our boys had stayed the night with some close friends of ours; they have two boys that love our two boys.  We honestly have only let our kids sleep over at a friend's house maybe five times, always with people that are basically family to us.  This time was no exception.
"Ernie, I think you need to come get Ethan.  He just broke a tooth in half and is in pain."
"What?!  What happened?"
She tells me that they're not quite sure.  Ethan was sitting on the couch by himself with a toy while the other boys were playing together with a ball on the other side of the room.  All of a sudden Ethan says that something hit him in the mouth, but can't tell them what it was.  His tooth is broken, but none of the other kids saw anything hit him and neither did he.
"Okay, we're on our way."
Branden and I were already in the car, driving to an appointment somewhere else in town.  Immediately we changed directions and I was calling the boys' pediatric dentist.  Closed.  Of course.  It was a Saturday morning.  I look up and call my dentist.  They're open until noon.  I quickly explain what I know of the situation and they tell me to bring him in.  Fifteen minutes later, we're loading the boys and their small suitcases into the van and speeding to the dentist office.  Ethan is crying, not out of pain, but because he knows the broken tooth is a permanent one.
"I already lost this tooth!  I'm not supposed to lose it again!"
Branden is pushing the speed limit, but his voice is encouraging and calm.
"It's alright buddy.  We're going to get you taken care of.  We're taking you to the dentist."
He talks about how God made people with different skills and that dentist are really great with helping people with their teeth.  Then he prays.  I'm turned in my seat, holding Ethan's hands and trying to muster my most reassuring smile.
"Do you remember what happened Ethan?"
"No.  Just something hit me in the mouth."
"What were you doing when you got hit?"
"I was sitting on the couch looking at my Lego man.  Then I just felt something hit me."
"Do you know what it was?"
"No.  I don't know."
The receptionist at the dental office remembers my phone call and hands me a clip board with a few pages to fill out.  We're a walk in on a Saturday.  After a few minutes in the waiting room, I tell Branden he and Silas should go get something to eat.  No use in all of us waiting for who knows how long.  He asks me if I'm okay.
"We're a couple weeks from the mission field, and this is happening."
"Exactly.  We're a couple weeks from the mission field.  Of course this is happening."
He reassures me, everything will be okay and heads out with Silas.
An hour and a half later, we finally get to see the doctor.  He takes an X-ray.  We tell him everything we can about what happened.
"Well, whatever it was, something had to hit him really hard to break his tooth.  Good news is, the break is actually above the nerve.  This could have been much, much worst.  Any lower and he would need a root canal today."
He's looking at Ethan's mouth with a bright light and tiny binoculars that fit over his glasses.
"It looks like the tooth next to the broken one also sustained some damage."
I lean down to look.  Sure enough, the neighboring tooth, also permanent, has a fracture running through it.  What's strange is that both teeth are affected the same way, with a straight horizontal line at the breaking point.  Not a jagged chip or odd shaped piece missing.  It's like someone cut through the tooth in a clean, straight line.
The dentist decides to put a filling on top of the broken one, like a cap to protect it.  He explains that eventually Ethan will need a crown on it, but for now, since the tooth is still growing, this will have to do.  He cautions us too, to be careful as both teeth will be weaker and more susceptible to further damage.
The dentist goes to finish with his other patients.  Ethan is getting anxious again.  He lays his head in my lap and tells me he doesn't want to be there anymore.  After another twenty minutes, the doctor comes back to do the filling.  Ethan, who's never had more than a regular cleaning in the dentist chair before, sits with his mouth propped open with a wedge, following the doctor's directions.  After about ten minutes, he starts to whimper a little.  The doctor checks to see if he's in any pain.  No, just uncomfortable.
I'm holding his hands and trying to encourage him.  I can see he's beginning to cry underneath the sunglasses they gave him to block out the bright light above him.  Another ten minutes go by, and they give him a break.  Ethan jumps out of the chair and into my arms.
"I just want to go home!  I don't want to be here anymore!"
We reassure him that it's almost done, that he's being brave, and coax him back into the chair.  Another ten minutes and they're finished.  I thank the doctor, we follow the hygienist to the front, and we head out.  Branden and Silas had gotten back a few minutes before.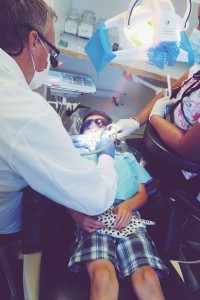 Later that day, we went back to the family's house where they had stayed the night.  They  explained how after we left that morning, they looked all around their living room, trying to figure out what hit Ethan in the mouth.  They couldn't find anything.  At first they thought it might have been the ball the other boys were playing with, but it would have hit him in the nose, or more of his face and it didn't.  In fact, other than his two teeth, there was no sign of anything actually hitting him in the face – no busted lip, no cut where it would have hit the tooth that broke, no swelling, nothing.
I don't use the words "spiritual warfare" casually or very often.  I do think spiritual things are happening all the time.  I just want to be careful to use the phrase appropriately.
The day after Ethan's tooth incident, we found out that the lady that is helping us with our flights (she's an employee of United and is letting us use her buddy passes for our trip to Ireland) has been written up at work almost every day since she booked our tickets.  They've called her in repeatedly, threatened to take her benefits and even her job.  It's to the point where the human resource department is actually launching an investigation against the management that's over her to figure out what's going on.
Yesterday we got a phone call from my sister in California.  A man called her and told her they had taken her sister in Denver, that she needed to wire them money or they would kill me.  For an hour she listened to their threats and tried to text me, my parents, Branden, and our other sister.  By the time she got a hold of me, she was sitting in front of a bank, terrified and crying.  A few minutes later, the same man called my mom here in Denver to try the same scam.
Unexplained broken teeth, a job being threatened, a scammer targeting my family.  Thirteen days.
"Finally, be strong in the Lord and in his mighty power.  Put on the full armor of God, so that you can take your stand against the devil's schemes.  For our struggle is not against flesh and blood, but against the rulers, against the authorities, against the powers of this dark world and against the spiritual forces of evil in the heavenly realms.  Therefore put on the full armor of God, so that when the day of evil comes, you may be able to stand your ground, and after you have done everything, to stand."  – Ephesians 6:10-13