Newsletter May / June 2017
OUR FIRST IRISH SUMMER
Hello Everyone!  There's been a lot going on since our last newsletter in April.  We have enjoyed some incredible weather with temperatures up to 75 degrees!  I don't think we realized how few days of actually warm weather we'd get here in Ireland, but it has made us so thankful for each time the sun comes out!  Summer in Ireland also means days with up to 18 hours of daylight!  The sun is up before 5am and doesn't go down until close to 11pm – we'll take every minute!
Last month, we had some friends visiting from the States (Hi Ryan & Megan!)  It was encouraging to hang out and catch up, and Megan even helped me get some things done for the house!  After being here for over eight months, our house is finally starting to look like a home!
Ministry has been really fruitful at Calvary Cork.  A few weeks ago, we got to do our first family service.  All the kids stayed with their parents and we melded the children's and adult services together.  There's something really special about families worshipping together!  Curriculum writing is also going well.  We've finished Genesis and have moved into Exodus.  It's been incredible following God's story so far, learning to see His faithful character and having opportunities to teach and disciple the kids in our fellowship!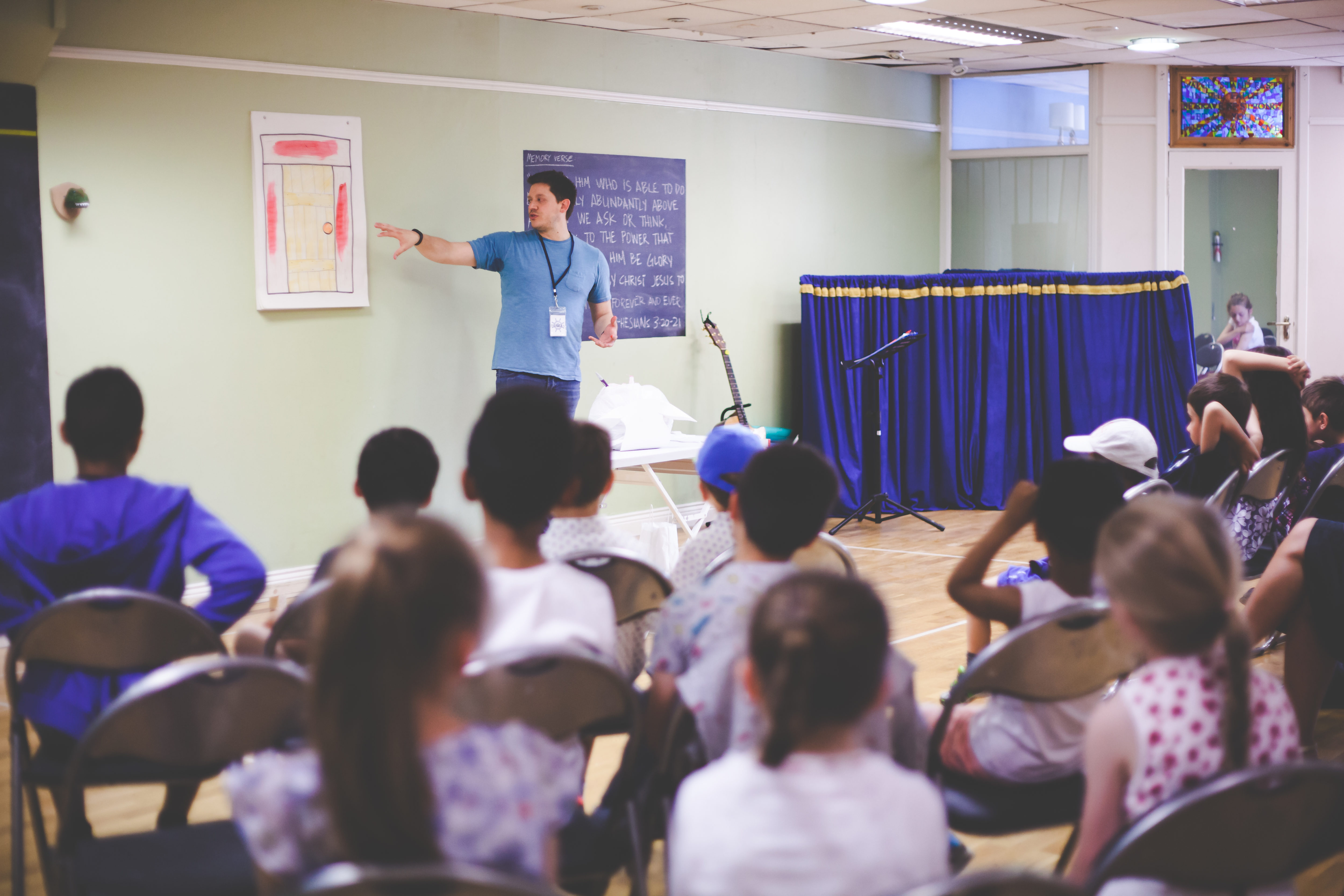 Speaking of teaching, Branden had an opportunity a few weeks ago to teach for an organization here called Child Evangelism Fellowship.  They create materials for evangelism and do outreaches in Cork and the surrounding area to reach neighborhood kids with the Gospel!  It was a privilege to partner with them and to learn how others are reaching Ireland's kids for Christ!
I recently had an opportunity to share my testimony at a women's ministry event here as well.  Being honest and speaking about the work God is doing in my personal life, especially to women from a different culture than my own definitely made me nervous!  But I'm learning it really is when I am weak, that God can and does show Himself strong!  It's been a great blessing to grow in community, not only in our own children's ministry, but with our church body and beyond!
PRAYER REQUESTS
Thank you for always faithfully supporting us in prayer!  Our current needs include:
SUMMER OUTREACH – With school coming to a close (praise the Lord!) we are gearing up for some summer events!  Please pray for wisdom as we navigate these relatively new waters and seek to be good students of the culture here.  Pray that the Lord would use us for His glory and the work of      His Kingdom!
HEALTH – We've had a few challenging things come up (nothing critical) and are asking for prayer, that the Lord would keep us in good health and help us not be distracted or discouraged as we serve Him and those He loves here.
SILAS & ETHAN – Please pray for our boys.  They've been missing people from home a little more than usual lately.  It comes out in their behavior, which is challenging, but we are praying for God's heart and wisdom to love on and encourage them in these real issues as we continue to transition here.
ABIDING – As with all ministry, we are challenged to ABIDE – set our hearts on Jesus and not be distracted, even with the work He's given us.  Please pray that we would abide and be fruitful in Him!
PRAISE REPORT! –  We wanted to share something incredible the Lord has done!  When we began to make the transition from Shepherd's Staff to our own nonprofit, Small World Big God, I was honestly overwhelmed with the amount of paperwork it would take to get everything up and running.  My prayer was for the Lord to send someone to come alongside us and walk us through.  God did more than that, and sent someone to not only help us navigate but also do a lot of the upfront work for us!  God is so good to take care of us and give us "more than we ask or imagine!"
SUPPORT
As you pray, if you feel led to support the work here in Ireland financially, please visit our missions website at www.treuimage.com and click on "Support Us" in the top, yellow navigation bar.  You can scroll to the bottom of the page and use the prompts to set up one time or monthly recurring donations.
Thank you for partnering with us in the work God is doing here in Ireland!  We're continually encouraged by how the Lord is stirring up His church to pray, and give, and be a part of the ministry here.  It's an honor to be on the ground and see firsthand the work God is doing among the Irish people.  We would not be here if it weren't for the body's support and obedience to the Great Commission!
"Now to Him who is able to do exceedingly abundantly above all that we ask or think, according to the power that works in us, to Him be glory in the church by Christ Jesus to all generations, forever and ever. Amen.'"
                                                                 – Ephesians 3:20-21
Blessings to you and yours!
Ernie
and Branden, Silas & Ethan