playing with light & a workshop announcement
Hello!  So until this year, my kiddos (ages 4 and 5) had never done their own fireworks, never seen them up close, never held a sparkler.  Is that not normal?  Does everyone do their own?  Anyways, our sweet friends decided to fix that and made sure we would have our own fireworks to play with on the 4th!
The boys were super excited waiting for it to get dark enough.  Finally, way after bed time, we headed outside for the big event 🙂  While the men got things set up (yeah, I have a rule about not holding anything that can literally explode in my hand!) I decided to play with the settings on my camera and do some fun things with the boys.  I love how these came out!
There's so many awesome things you can do with a camera in manual mode!  For these, I slowed down the shutter speed so it would capture the boys' movement.  If you're interested, the settings were:
ISO 400, 1.3, f/2.8
Then the fireworks started!
Then we let the boys play with sparklers!  Six boxes of sparklers and only one blister later, it had been a good night 🙂  Ethan actually cried when we ran out 🙁
I wanted to capture how dark everything was with only the sparkler to light the picture.
The settings were: ISO 1250, 1/100, f/1.8
Then it was time to draw with light!  So, one of the coolest things about photography is that you are literally freezing time.  When you take a picture, your camera opens the shutter and records everything that happens until the shutter closes.  It captures light over a period of time and gives you a tangible recording of what happened – so cool!
Okay to do this, I slowed down the shutter speed again (the amount of time between the opening and closing of the shutter).
My settings for this one were: ISO 160, 1.3, f/2.8
Then we drew some hearts!  Awww…so sweet 🙂
First 4th of July with our own fireworks 🙂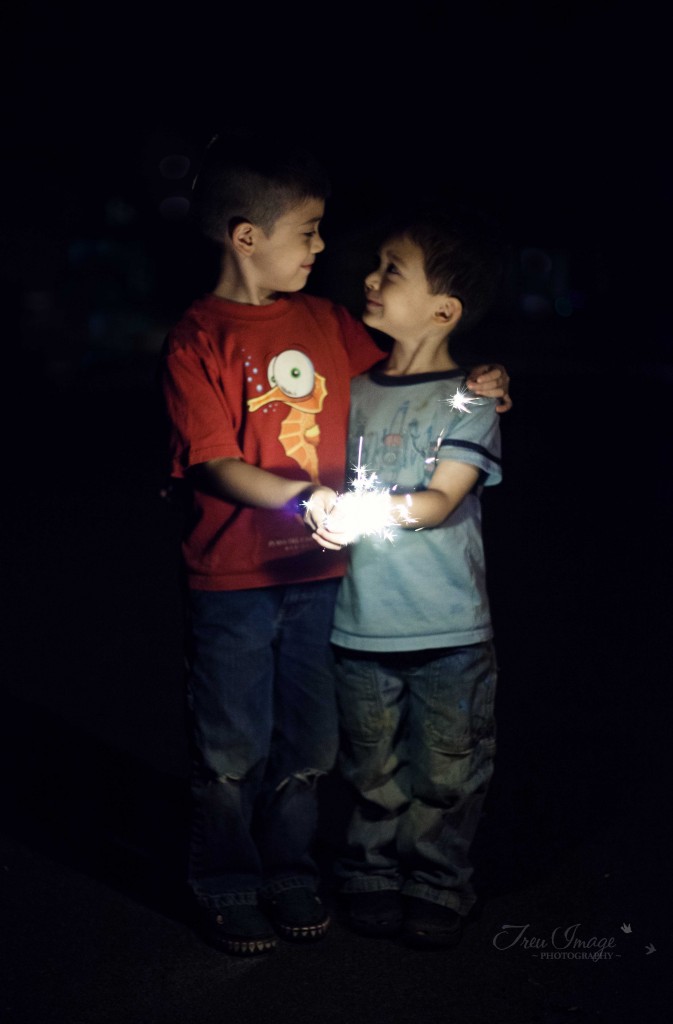 If you've ever wanted to learn how to do cool things with your camera or really just take control of your settings and make the camera work for you, I'd like to invite you to a photography workshop I'll be doing on September 14th in Aurora, CO.  The workshop will be 4-5 hours long and will cover how to shoot in manual mode, what makes a great picture (composition), and how to go from just pointing and clicking to really capturing the story in your images!  The cost is $125 and includes breakfast, lunch, and all workshop materials!
I'm also offering a referral discount!  If you get someone to sign up with you, both your registrations will be $90 instead of $125!    Photography is truly a gift in my life, allowing me to capture my family's daily life in a real, tangible way.  For any questions and to sign up, please email me at ernie@treuimage.com.  I'd love to have you there!