A few years ago, Branden and the boys got me what they call "The Mom Book."  I had seen the idea in a magazine somewhere (that I don't remember :/ but I told Branden that it's what I wanted for Mother's Day instead of cards.  Don't get me wrong, I like greeting cards.  They're great, except for two things.
1 – They're expensive.  At least I think so.  If I'm going to spend five bucks on a card for someone, I think I'd rather get them a frappuccino.  Maybe that's just me.  #2 – I want to keep them all!  This is a serious problem.  I literally have every letter, card, post it note, and tiny scrap of paper Branden ever gave me while we were dating.  I'm like a sentiment hoarder!
Anyways, The Mom Book.  This is a creative, sweet alternative to the piles of greeting cards you might be accumulating.  And, it's a way to chronicle your family's affection throughout the years.  Take a look!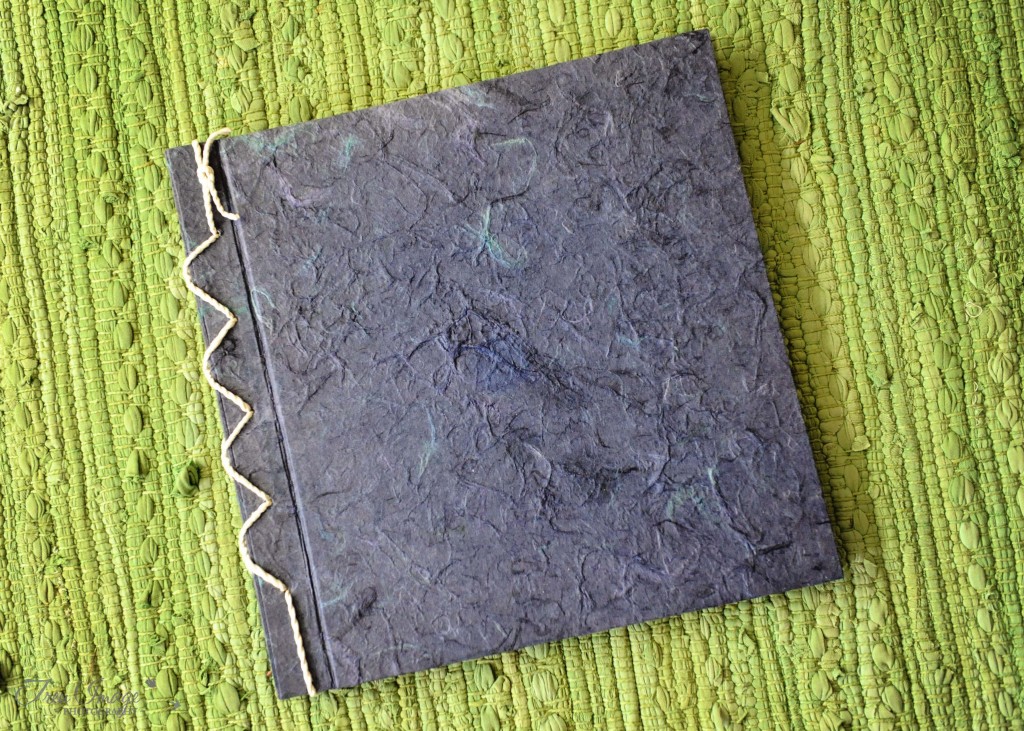 The idea is to get a nice notebook and have your kiddos write in it for whatever occasion(s) they'd like to.   They started this one for me on a Mother's Day, but they write in it for my birthdays too!
Branden bought this scrapbook at Hobby Lobby with a 40% off coupon 🙂   It's beautiful – handmade paper and the inside is just blank 12×12 sheets, which is perfect for little boys who are learning to write and want to draw pictures with everything!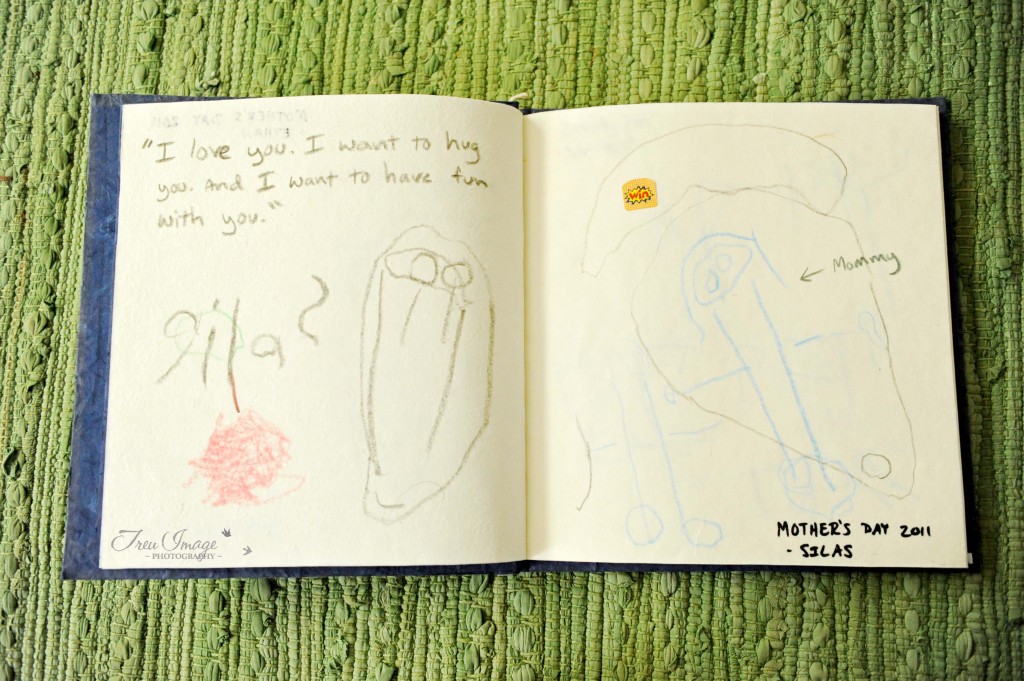 This particular birthday of mine in 2011, was about the time where Silas (age 3) was first learning to write his letters.  We had just begun to homeschool him.  I know they're not perfect here, but Branden said that he just dictated the letters in order to spell out Silas' message.  This is literally the first thing that Silas has ever written without tracing or copying – and I have it in a message to me in his sweet, imperfect 3 year old handwriting!
You can see that Branden dated everything, which is smart.  Every time they write in this book, Branden makes a point to spend some time with them, filling it with their drawings and messages.  So sweet 🙂
This was Ethan's drawing and message to me that same year.  If you can't read the writing on the side, it's a conversation between Branden and him.  We had been learning verses for school, which I guess was on his mind:
Branden: What do you want to tell Mommy for her birthday?
Ethan: In your anger, do not sin.  Ephesians 4:26
Branden: Do you want to wish Mommy a happy birthday?
Ethan: No. (Then he begins to sing Happy Birthday)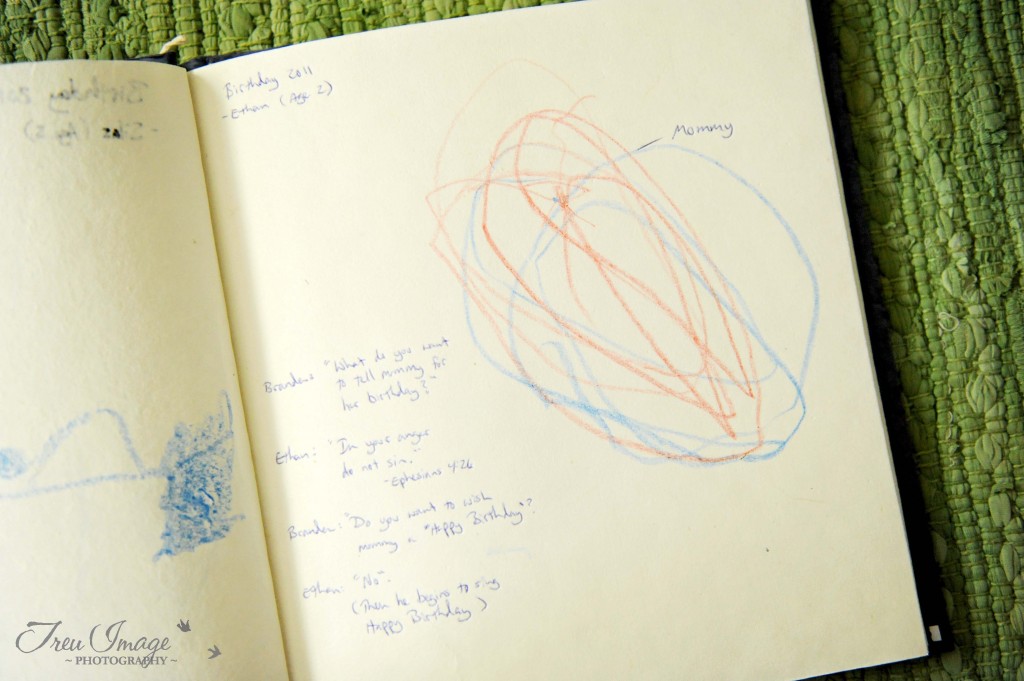 Usually, each of the boys just fill one page, but Silas wanted to do two that year, and draw this picture for me.  When they gave me the book to open, he explained that this was him, holding a certain made up, amazing weapon he had imagined.  Kid drawings are my favorite 🙂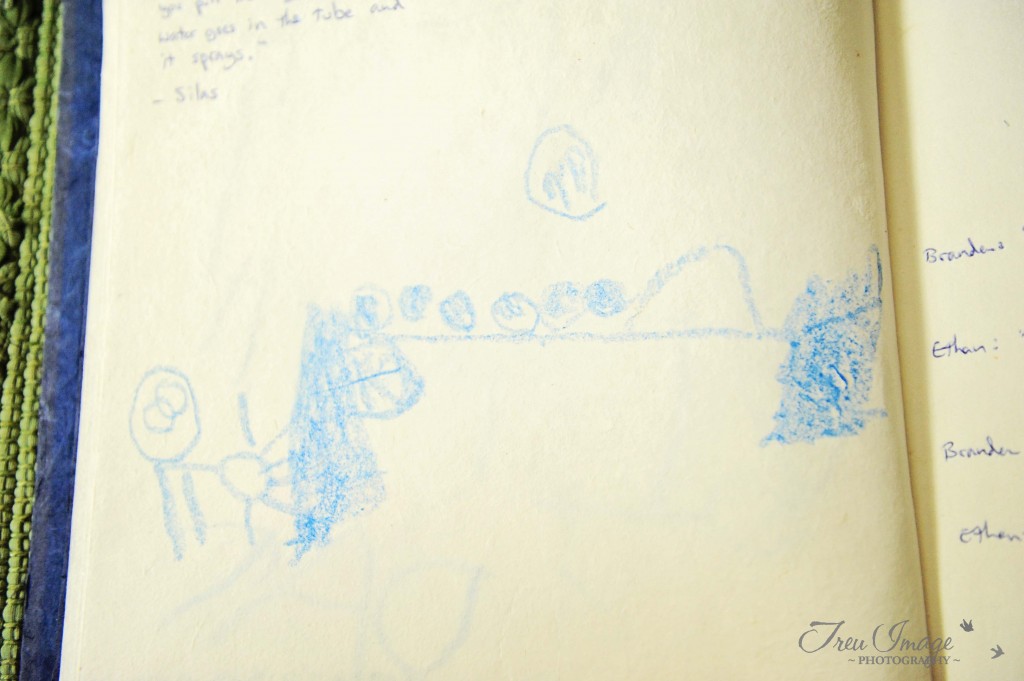 So, that's The Mom Book.  So far I have three years worth of my boys' handwriting and drawings and sweet messages!  I'm excited to look back ten years from now and see these notes 🙂
If you'd like to stop collecting greeting cards and have all your kids' sentiments chronicled in one place, maybe ask them to start a Mom Book for you.  It's not too late to start!