"Trust in the Lord with all of your heart, and lean not on your own understanding.  In all your ways acknowledge Him, and He shall make your paths straight."  – Proverbs 3:5-6
At this time last year, we were in a very different place.  The Lord had spoken to me already about Ireland, about missions.  But for a season, He withheld His word and direction from Branden.  The Lord told me up front, there was a process, things in both of us that had to be cut away, things we needed to learn.  For me, it was faith, believing God and what He'd said even when things looked impossible.  And He was making me more into the helpmate Branden needs.  I needed to learn to be quiet (ouch!)
At this time last year, we were in the middle of a three month stretch where the Lord had forbid me from saying anything to Branden about Ireland or missions until Branden brought it up.
"Well, that's never going to happen!" I remember protesting.  And Jesus would call me to quietness and to faith.  Whatever He needed to tell my husband, He could.  He didn't actually need my help.  Honestly that was such a season of "dying to self" for me.  I would learn to be quiet, to take my heart to the Lord, to trust Him in a new way.
There were lots of things that happened between this time last year and now.  Miracles as far as I'm concerned!  The Lord did change Branden's heart, and now He's leading the charge into missions in Ireland!  Jesus was faithful.  He is faithful!  For those of you who have had to wait on the Lord, to believe Him through impossibilities, through heartache and seasons of loneliness, you know.  It feels like dying because it is – death to yourself, but life in Jesus!  For anyone in this season right now, can I just encourage you?  Jesus isn't a liar.  If He says He will do something, HE WILL DO IT!
Today, we're spending quite a bit of time cutting and folding and preparing these: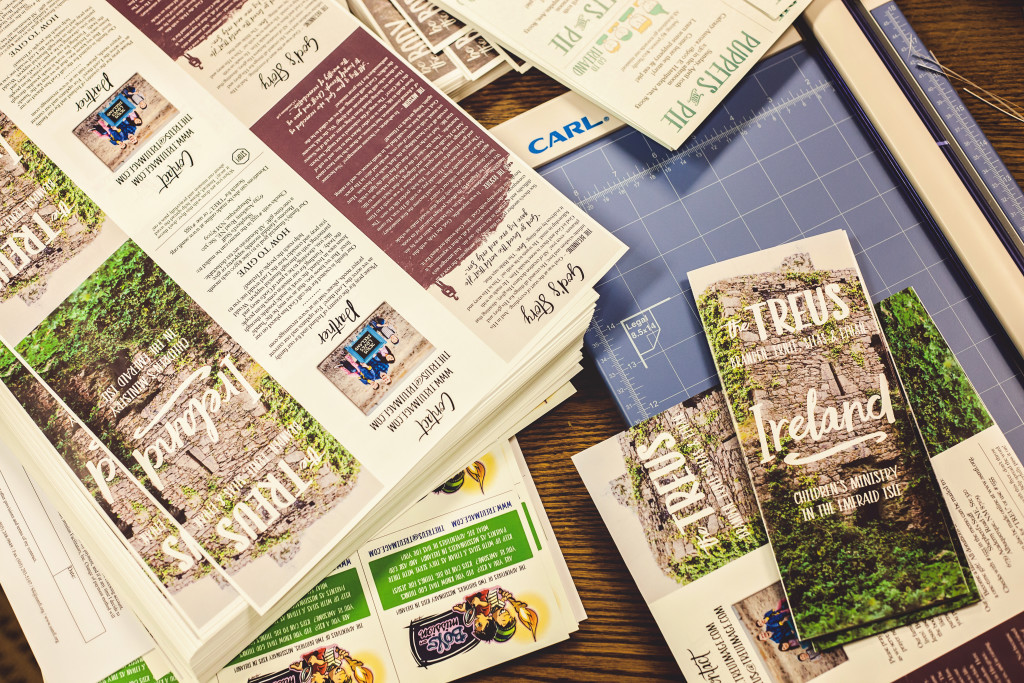 Stacks and stacks of flyers, invitations, and information to share with people about the mission God is sending us on!  Now Branden and I are on the same page – God's page.  Each flyer and invite is a reminder – I can trust my God.  He will do all that He has said.  He is faithful!