Branden helped me recover my Bible last week!  I've been wanting to have this done for a while, but sending it off to have it recovered apparently costs at least $100 – yikes!!  Originally my Bible (which Branden gave me when I turned 18 🙂 had a hardcover. Even though it's always been in a zipper case, the last 15 years had worn out the cover and it had broken away from the pages in several places.  What's more, a couple weeks ago, the zipper case also broke!  It was time 🙂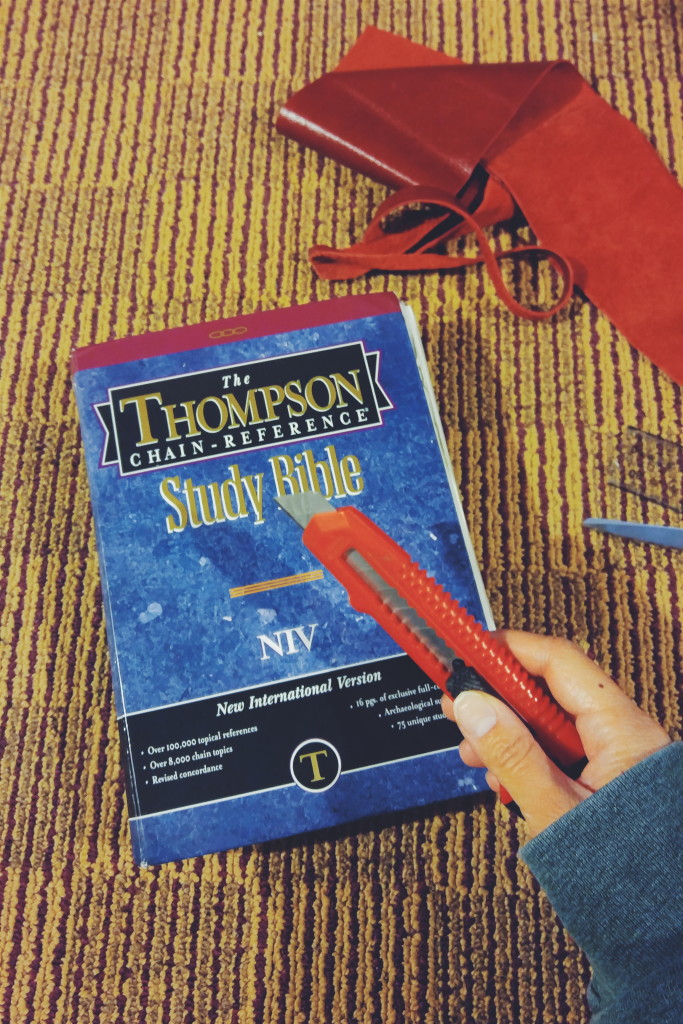 Cutting the block of pages away from the cover was kind of scary!  No turning back!
This isn't at all a tutorial.  Just a few pictures I took along the way 🙂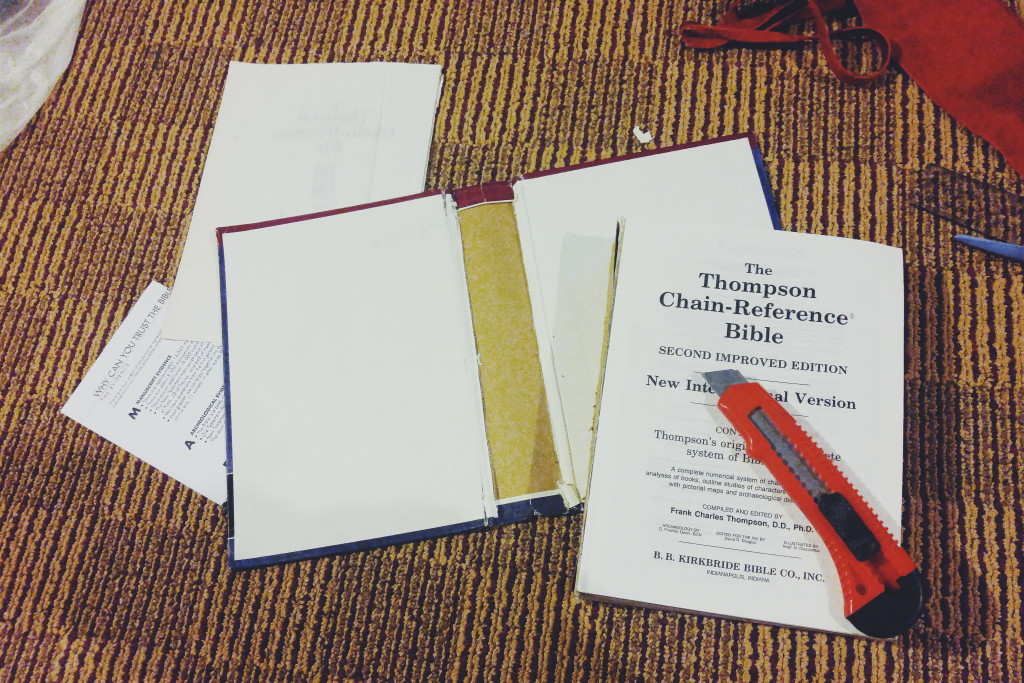 We went to a leather store and I picked out a beautiful red leather I really like.  Here's Branden spreading glue over the new leather cover.  Also, monster box photobomb 🙂  You can see the block of pages in the bottom corner.  The binding had come apart in some places.  We repaired it with bookbinding glue and gaffer's tape.  All in all, the materials cost about $30 – much better than $100!
Installing magnets for a simple, low profile closure.
All finished!  I really love it!  It's beautiful and rustic and simple and red!  And best of all, I got to keep my Bible!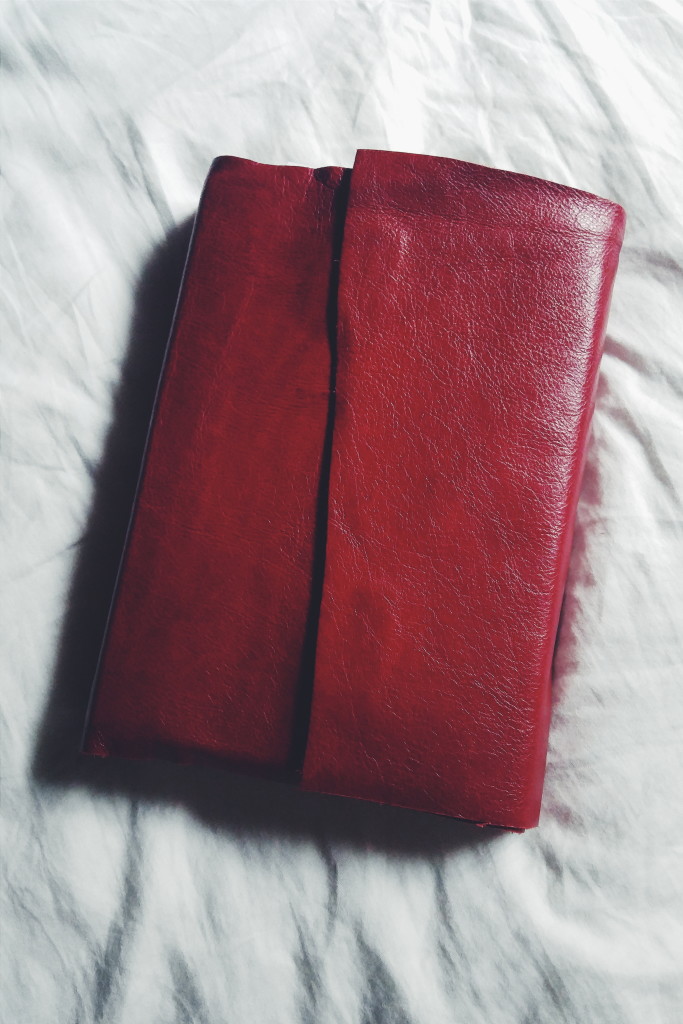 It's not that getting another Bible (which at some point I thought I might have to resolve to doing) would have been bad.  But this is MY Bible!  Branden gave it to me right before we got married.  It was with me though those first years of marriage and ministry, when we started a family, through transitions and moves, and in the past few years, has been my companion as the Lord called us into full time missions.  It traveled with me on our first trip to Ireland!  The Lord has done and continues to do so much in my life through this Book – His Word to me!  And I'm thankful that, in its new state, it will hopefully stay with me for many seasons to come!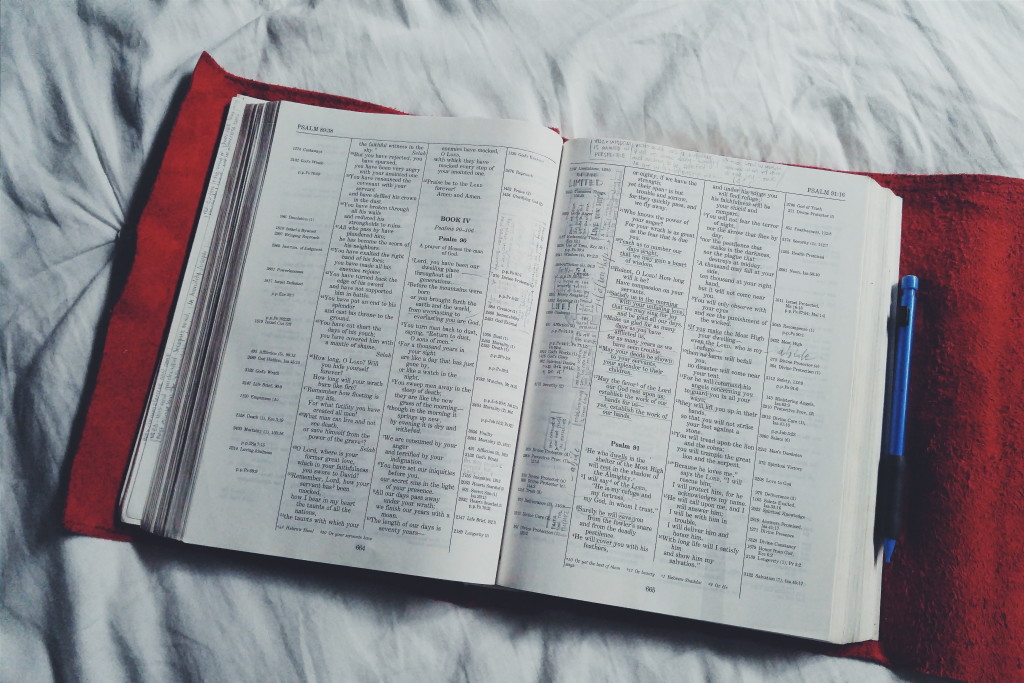 There are several verses the Lord has been using to encourage me the last few days.  Maybe this one will encourage you too!
"For the LORD God is a sun and shield; the LORD bestows favor and honor; no good thing does he withhold from those whose walk is blameless."  – Psalm 84:11