Hi All!  This is sort of a ministry update/Project 52 post.  So it doesn't look like we'll be heading to Ireland in July like we were originally planning/hoping.  We had a meeting with some of the missions leadership from our sending church a few weeks ago, and there are some things that are just not it place yet for us to be able to go.  I know the Lord is working out everything in His own time and way, but that was a really difficult meeting.
When you are called to the mission field (or maybe anything the Lord calls you to) there's so much you don't know.  There are people that can help you, be there for you, share their experiences maybe.  But you're kind of walking your own path with the Lord, and I think that's how He means it to be.
There's so much in this journey that has been incredible, miraculous even.  We have seen God do impossible things, show up and take care of us in crazy unexpected ways.  And I trust (most days at least!) that He will continue to be God and remind me of my frailty, that He'll show us He delights in doing for us what we cannot (and don't have to) do for ourselves!  What kind of a Father would He be if He didn't take care of His own?  It's His heart to, and I'm learning that in deeper ways in this season.
All that to say, life feels like a game of red light, green light right now.  So much is up in the air, and yet there is so much to be faithful in.  The Lord has definitely been encouraging us, showing us things that we need to give attention to.  The process right now is day to day, and I'm learning to be okay with that.
I know this sentiment is true for Branden and I, and it's true for the boys.  This general feeling of moving forward while having to sit still.  It's not always an easy place to be, and yet it's where Jesus calls us to be right now.
Ethan, my always sweet, easy, funny little boy has had a few rough days as of late.  He's also just truly at this in between stage of baby and big boy.  He still wants to cuddle, still cries when he gets scared at night.  But he talks like a big kid, plays like a big kid, and for the most part, keeps up with his older brother.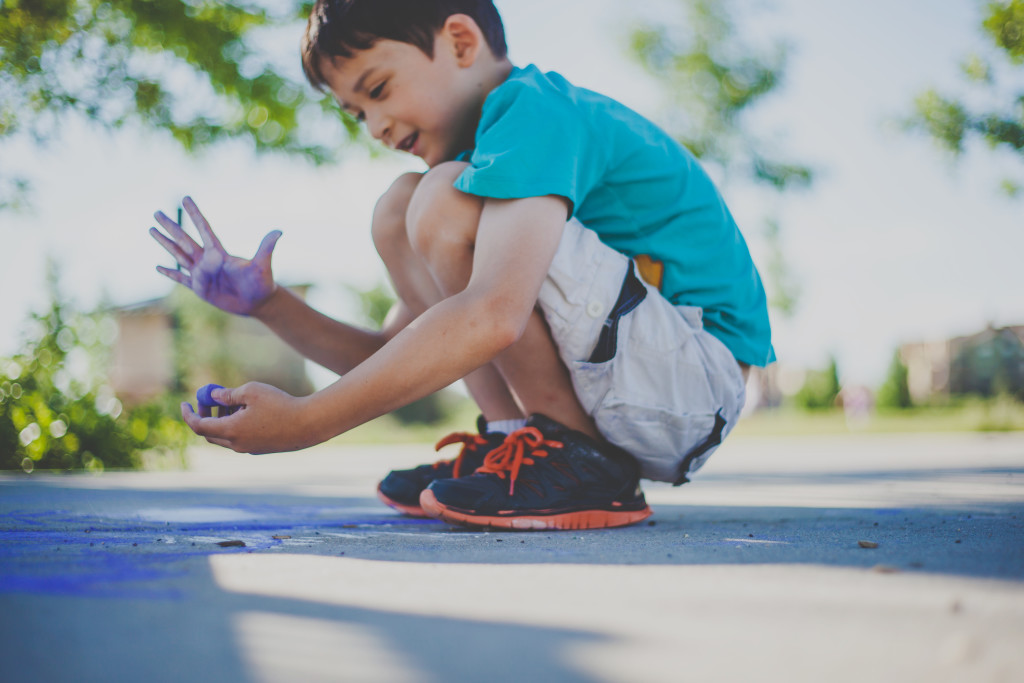 Lately I've noticed he can be easily agitated.  Instead of coming to us for help when Silas upsets/messes with/tackles him, he reacts quickly and often with some force.  Now I know, he's a boy.  Boys can be rough. But it's been a definite change for him.
The other day, we were at a park.  Silas, true to his people loving personality, quickly found another boy his age and started to play a round of tag.  It wasn't long before Ethan came to me whining and frustrated.
"I hate tag!"
The word "hate" has recently been blacklisted in our house.  Thoughtless use of it earns a consequence.
"Why don't you have a conversation about it?"
"Silas always wants to play things I don't like!  I know he won't listen!
More extreme statements.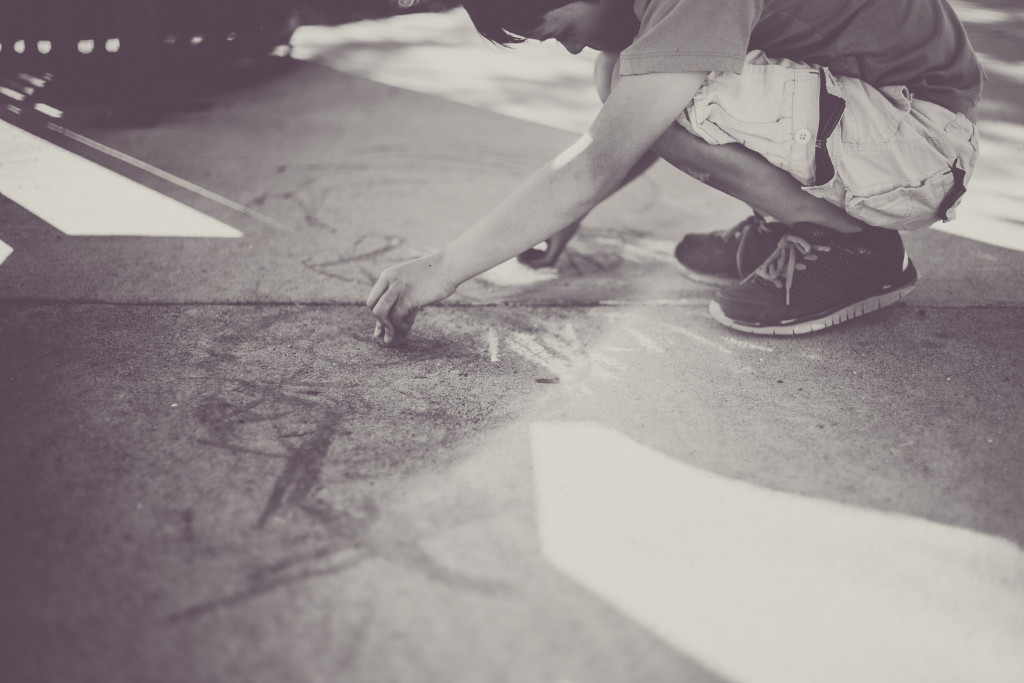 "Well, I think you should talk to him.  Or is there something you want to play by yourself?"  I meant it as an encouragement, but there was no reasoning with him.  He had decided the situation was unfair and there was no solution.  He spent the next twenty minutes moping/arguing with his brother.  Silas offered to play other, more Ethan centered games, but in the end, Ethan's mind was made up.  He wasn't going to play.
Eventually he came back to the park bench I was sitting at, exasperated.  No encouragement would sway him.  Silas came over to help but to no avail.  Ethan looked down and found a piece of white sidewalk chalk someone had left behind.  He bent down and picked it up.
"Do you want to draw?" I asked.
He nodded.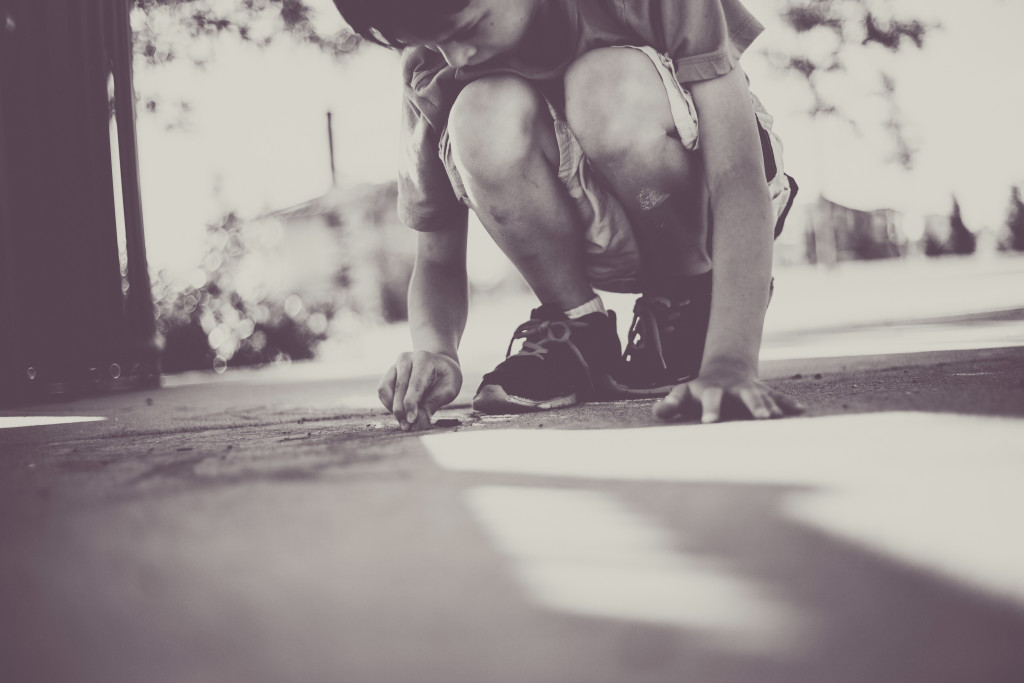 Silas quickly found a purple piece of chalk nearby.  "Here you go; now you have two!"  Ethan seemed satisfied, and big brother went back to climbing the playground equipment.
Ethan put the chalk to the sidewalk.  He began moving it back and forth with quick, sharp movements.  No pattern, no picture.  Just broad, forceful strokes.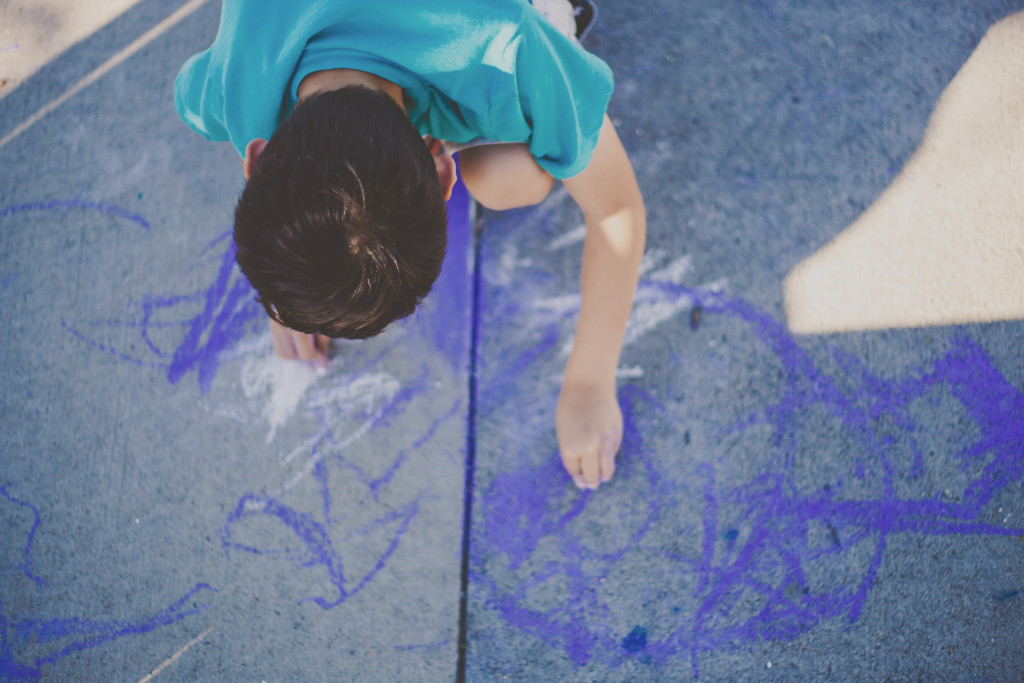 "Why don't you draw a picture Ethan?" I suggested.
"I just feel like scribbling Mom."  He wasn't being disrespectful.  He was being honest.
Ethan scribbled on the pavement for another ten minutes.  He noticed that his hands had taken on the periwinkle hue of the chalk he'd been eroding.  He held up his palms to show me.  A few more quiet minutes of coloring passed, and his mood had changed.  I guess some scribbling time is what he needed.
Some days I feel like that too.  Frustrated, discouraged, unreasonable.  As if life itself might swallow me whole.  The solution for me isn't scribbling.  Sometimes is crying or talking.  Or maybe the more accurate combo of blubbering!  Eventually, it's praying.  And Jesus is always waiting.  He understands us, leaves room for us to be upset, to let it out, to learn.  If I'll listen, I can hear Him speaking.  And somehow the sound of His voice is the difference.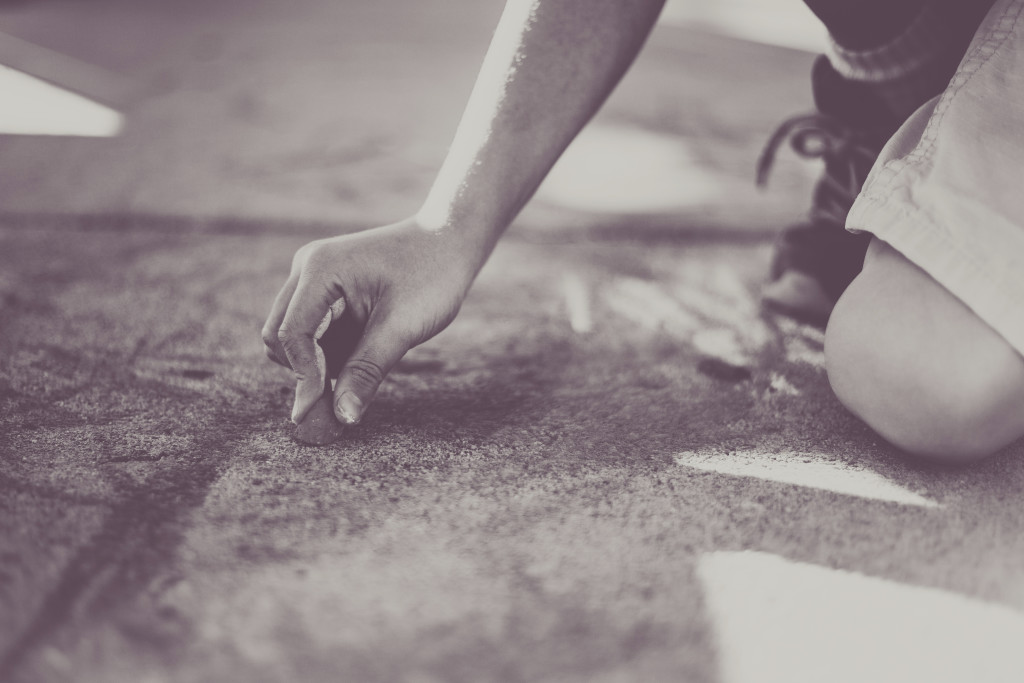 Sometimes He means for us to be weak, not so that we are overwhelmed, but that we come to know His heart to carry us.
"So do not fear, for I am with you; do not be dismayed, for I am your God. I will strengthen you and help you; I will uphold you with my righteous right hand."   – Isaiah 41:10