hello!  at the end of 2011, branden and i wanted to give a little something to the precious folks serving with us at church.  we got them each a little starbucks gift card and chocolate (good combo right? 🙂  i wanted to package them all pretty (because presentation is not only important, it's super fun!)  i thought i'd share them with you, just in case there's anyone in your life that could use some coffee and chocolate!  here's what i used:
a gift card for each gift
bite size, individually wrapped chocolate (or any candy really!)
the smallest starbucks cups with lids (i just asked for them when i bought the cards 🙂
ribbon in your choice of color
strung marking tags (found at any office supply store.  i got mine from walmart – 100 for less than $2)
scotch tape
a pair of scissors
okay, to get started, put the gift card into the empty cup and surround it with candy.  fill it to the brim and put the lid on.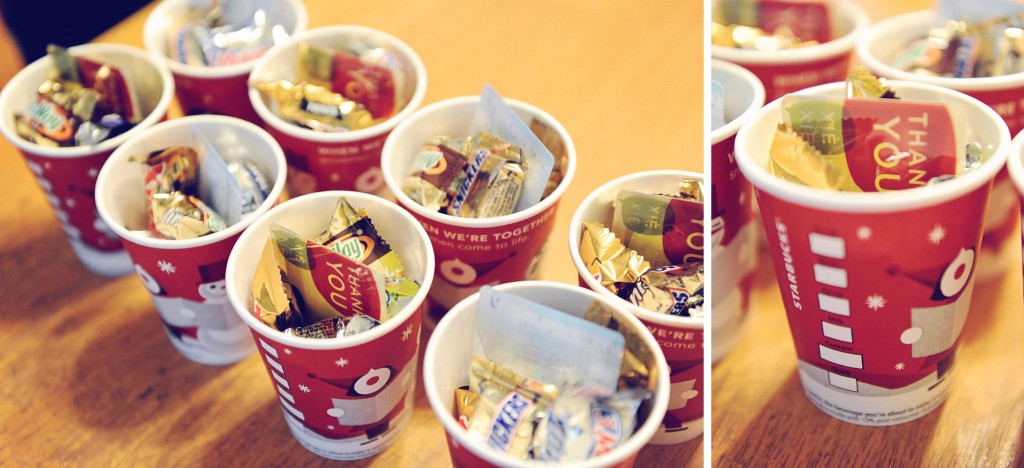 cut a length of ribbon.  to measure, i wrapped the ribbon lengthwise (top to bottom) around the cup twice.  this way, i would have enough to wrap around and tie a bow.  figure out where the middle of your length of cut ribbon is and use a piece of tape to secure it to the bottom of the cup (sneaky and functional!)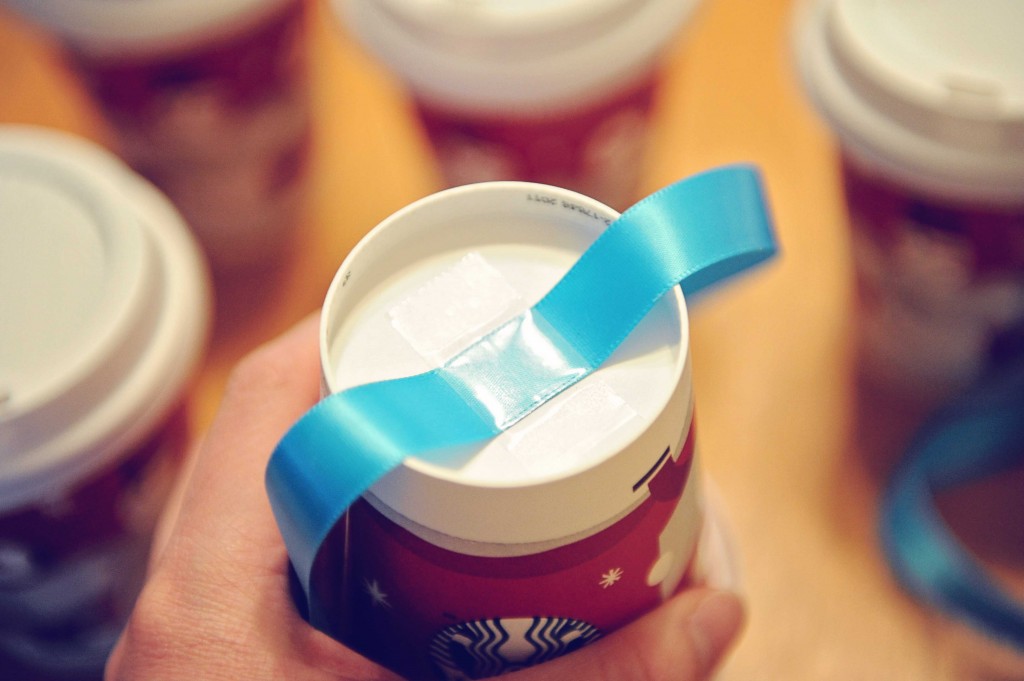 bring the sides of the ribbon around and tie a pretty bow!  i wanted to get extra fancy and cut triangles out of the ends of my ribbon 🙂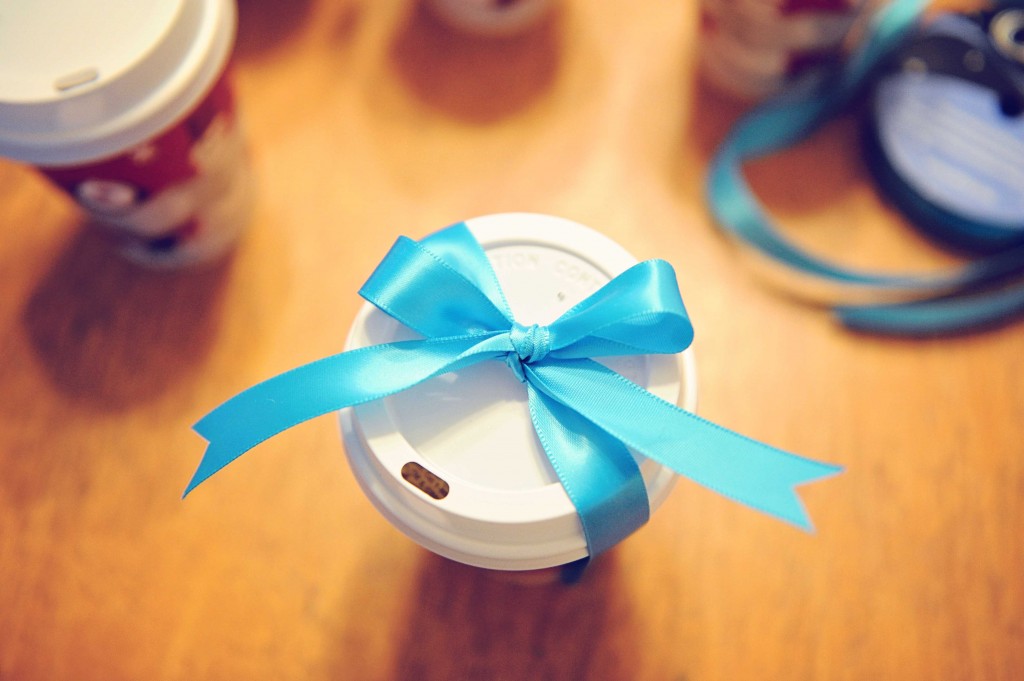 alrighty, now take your strung marking tags (we used these) and write something fun and encouraging on them.  string them to the ribbon and secure with a knot.  you may have to cut the string to get it to hang where you want it.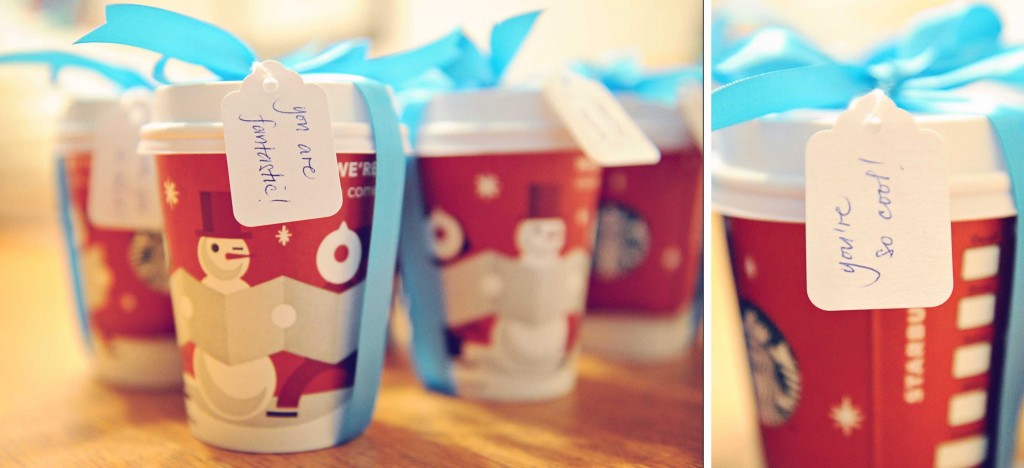 and you're done!  now you have some sweet looking (and tasting) gifts to show your appreciation!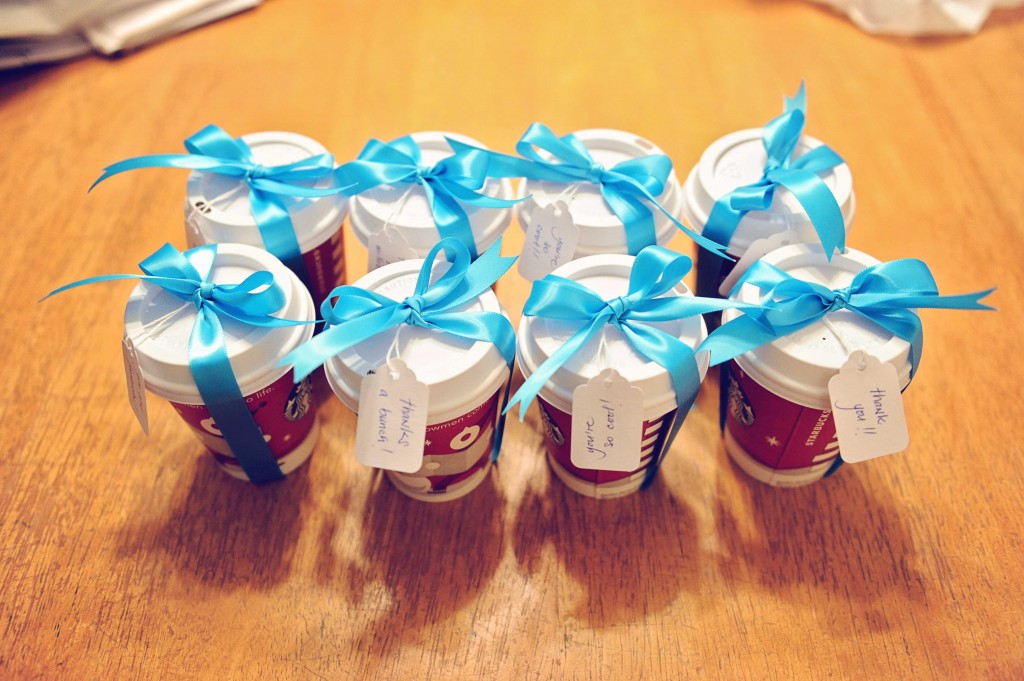 we gave ours out as a sort of "thank you/you're awesome/merry christmas" gift, but you could use these for pretty much anything – teacher appreciation, even something sweet for the moms and dads in your life in may or june!  who doesn't want one of these?